Continuing the Countdown to Halloween posts today is part 2 of my favorite Halloween episodes! My first post was more family friendly shows and these are more adult shows. I just couldn't narrow it down to 5 so I decided to do 10 and make it 2 parts. So here's part 2 and I hope you enjoy!
NCIS "Witch Hunt" Season 4 Episode 6
Recognize Abby? In this episode the NCIS team investigates a marine's daughter that's been kidnapped. On Halloween night. You can buy this episode on Amazon or iTunes.
CSI: Miami "Curse of the Coffin" Season 5 Episode 6
It's Halloween and strange things are happening at the lab leading everyone to believe it's cursed. You can watch CSI: Miami on Netflix! Or buy this episode from Amazon or iTunes.
The Dick Van Dyke Show "The Ghost of A. Chantz" Season 4 Episode 2
Taking you real old school now! I grew up watching Nick at Nite and the Dick Van Dyke Show was one of my favorites. They never had an official Halloween show but they had a lot of shows about ghosts and haunting and different things. This is one of my favorites. Rob and the girls are stuck in a haunted cabin. You can watch this episode on Netflix!
Reba "Best Li'l Haunted House in Texas" Season 5 Episode 6
Great Reba episode! I don't want to give the plot away because it's a little bit of a mystery. Check it out for yourself. You can watch it on Hulu Plus.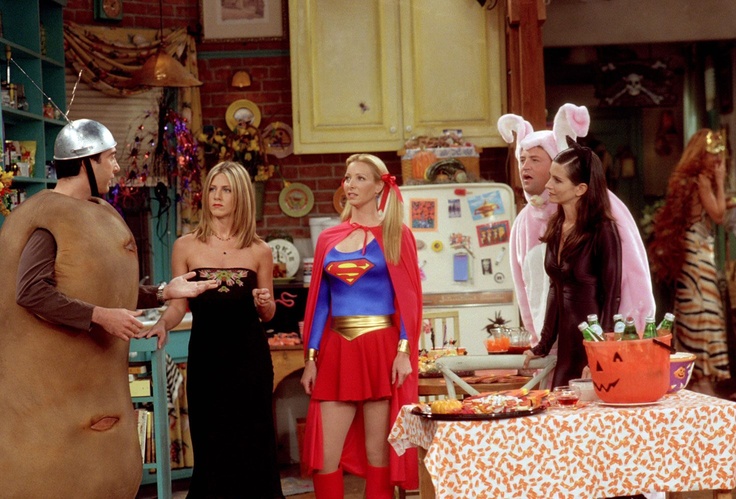 Friends "The One With the Halloween Party" Season 8 Episode 6
The picture above says it all! A funny Friends episode where they throw a Halloween party. You can buy this episode on Amazon or iTunes. It also regularly comes on tv a lot.